After we left Washington and endured bumper-to-bumper traffic to Richmond, we stayed the night there so Ron could watch the baseball finals and we then headed for Charleston, SC the next morning.
The hotel we had made arrangements to stay in, the La Quinta in North Charleston, had no rooms ready to check into when we stopped by at 4:00 so we drove into Charleston to do some sightseeing and have dinner.
Ron as read most of the books that Pat Conroy has written and I recently read my first book of his, Beach Music, which I enjoyed tremendously. Pat Conroy is perhaps best known for Prince of Tides, but, as a graduate of The Citadel in Charleston, many of his books, like My Winning Season, Lords of Discipline, Broad Street and The Great Santini talk to experiences, both positive and negative, at The Citadel. We located The Citadel and drove and walked the campus and visited the basketball auditorium, tennis courts and other features of this famous military school. Reading Pat Conroy's work will be more meaningful for me in future and Ron now has a vivid picture of the scenes and stories he's already enjoyed.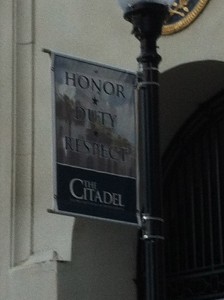 We drove around Charleston, parked and walked along the waterfront to take in the beauty of the mansions situated there. The architecture and preservations of homes and historic buildings throughout the city is incredibly impressive.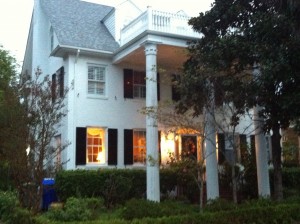 We headed downtown and walked the main streets looking for a recommended restaurant named FIG (Food is Good). As impressive as their menu looked, they had a significant line-up, so we headed across the street and had some great food at Sticky Fingers BBQ. Definitely NOT for vegetarians, this restaurant turned out some fine southern barbecue, tremendous Sweet Potato Casserole and a fabulous homemade coleslaw. They've served their food to a massive list of celebrities and we can now appreciate why. The food and service were great. While at the restaurant, we called the hotel and our room STILL wasn't ready and it was now 8:30 at night.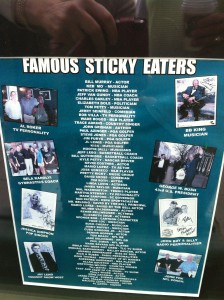 We had dropped by the historic Francis Marion Hotel to admire the architecture and to see if the musicians on the second floor (visible from the street) were perhaps playing some jazz that we could enjoy. An exceptional young man working at the hotel who had just moved from Vermont, Seanan Keleher, asked where we were staying and we told him that the hotel that we had booked earlier in the day through Expedia did not have our room ready when we dropped by at approximately 4:00 this afternoon, nor at 8:30 this evening when we called to check on it. He said that he had one room left and offered to work with the hotel we'd booked and with Expedia to have our money refunded and to arrange for us to stay at the Francis Marion Hotel instead. It took almost a half hour on the phone with various people, but he made it happen. We couldn't have been more delighted. Seanan went above and beyond any normal expectations of service. It was a real pleasure to stay in this beautiful hotel, built in 1928, with such a magnificent view of this amazing city.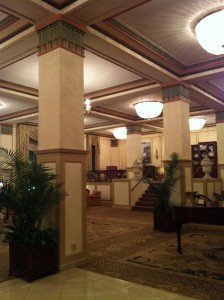 The next morning, we set off to take in as much of the city as we could possibly fit in and took a narrated carriage ride through historic Charleston. Before we left the city, we grabbed a quick lunch at a local Irish pub and enjoyed their version of an "Irish Quesadilla" – corned beef, sauerkraut and Swiss cheese cooked in a quesadilla with a side of sautéed spinach. Great idea to replicate for St. Patrick's Day!