We had originally planned to head up to Glenwood Springs, Colorado to see our dear friends, Tony and Sue. Turns out that they are away and are in Cabo San Lucas, of all places! We're really sorry to miss them as they are two of our favorite people. It's a real highlight to stop and see them on the way to New York every year and, whenever possible, on our way back to California in the fall. Hopefully we'll see them before next May, but we'll pick up exactly where we left off regardless.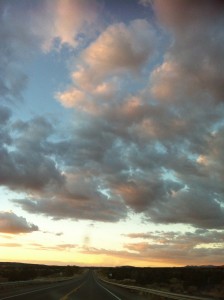 We took a different route and headed to Santa Fe, New Mexico instead. Both Ron and I had been there previously, but it had been well over a decade since either of us had visited. We couldn't have arrived at a better time as the sun was just setting and the colors and the landscape were absolutely breathtaking.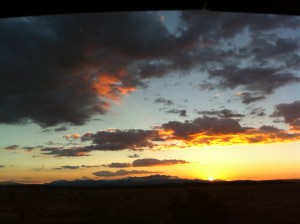 Our friend, Mary, was originally from Santa Fe and she and Stretch had just come back from a recent visit there, so we looked to them for some recommendations as to where to eat and stay.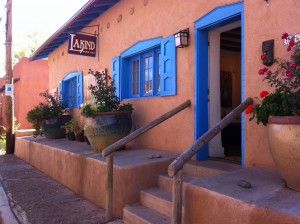 Stretch and Mary called ahead and made a reservation for us at the Silver Saddle Motel, a classic vintage motor hotel with a western theme located on Cerrilos Road (www.santafesilversaddlemotel.com). The motel is owned by a great lady, Penny, that we met on our second morning and who has spent a great deal of her past in Mexico, including the early days of Cabo San Lucas and the Baja. The motel is being run day-to-day by Penny's daughter, Dawn, and her boyfriend, Miguel, and, along with their night manager, Gene, they make their guests very welcome. We stayed in the Cowboy Room, decorated with Roy Rogers/cowboy/vintage paraphernalia, and couldn't have been more homely. The room was very clean and comfortable and the complementary breakfasts were simple but fine. Special details like pumpkin butter and cranberry apple butter for the bagels were nice touches.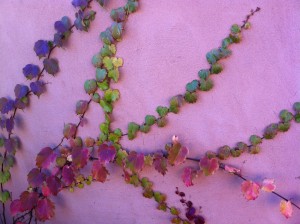 Santa Fe literally bursts with its own distinct flavor and the variety quality of their over 250 restaurants makes this city a foodie's paradise. On Stretch and Mary's recommendation, we ate at Tomasita's, at the old railway station, on our first night for some classic New Mexican fare. We shared a salad, a Mexican combination plate so we could taste the famous red and green chile sauces and try their version of a relleno (we still think Pancho's makes the very best!) and sopapillas with butter and New Mexican honey. Delicious! A mariachi band came in to play for a friend; four women including a trumpet player and they were phenomenal. After they left, a gentleman who appeared to be a guest at the neighboring table, got up and played the cello. He was truly a virtuoso and almost seemed out of place in this restaurant, but it was lovely that he played for his friend's birthday celebration.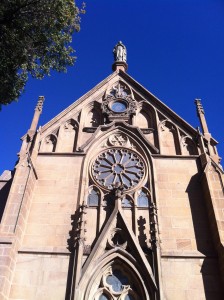 The next day we headed off towards Canyon Road and wandered through the endless galleries and then down to the central square to wander that area and take in the beautiful fall colors and beauty of Santa Fe. We had originally planned to be on the road that afternoon, but decided that we were having such a grand time in Santa Fe that we would stay another night and head out first thing the next morning.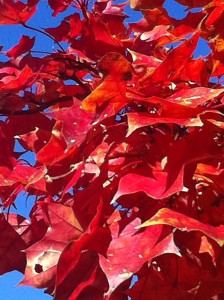 We decided to have dinner at La Plazuela at La Fonda on the Plaza. La Fonda Hotel is a Santa Fe icon and the dining room was absolutely charming. Great food and wonderful service made this night very special.