This past Friday night was very special. I got together with five of my very dear girlfriends for a delightful evening of connection, laughter, food, wine and general merriment! It was a pot-luck dinner and ALL of my friends love and appreciate great food and wine, so the offerings were superb. The occasion was supposed to be a celebration of three of our birthdays (Susan, Monica and me), but because I'm out of the country during the winter months, it has grown into just a great reason to get together and our group expanded to include Kajsa, Cathy and Tina.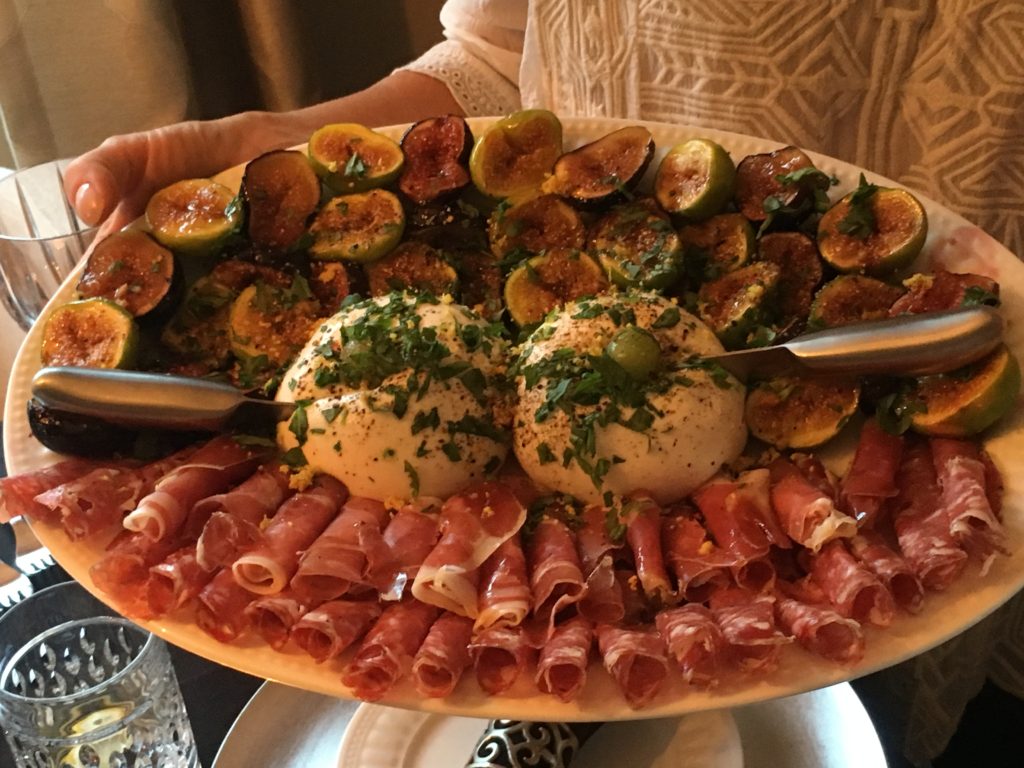 I was responsible for the appetizer and had planned to prepare stuffed mushrooms and a grilled eggplant salad served in Belgian endive. When I walked into Lina's Market on Centre Street and saw the magnificent fresh figs they had displayed, the plan instantly changed. Instead I made carmelized figs with burrata cheese, with rolled prosciutto and fennel salami – the cheese drizzled with extra-virgin olive oil, fresh lemon zest, finely chopped arugula and freshly ground black pepper. To caramelize the figs, I removed the stem end, cut the figs in half lengthwise, and pressed the cut sides firmly into light coloured brown sugar. I heated a large, heavy sauté pan until hot, then cooked the figs sugar side down until carmelized (only takes a couple of minutes).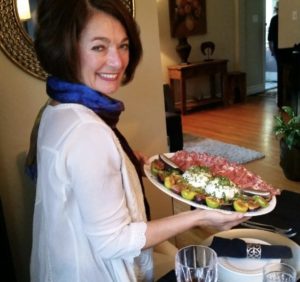 Kajsa was up next with the salad course, which was absolutely brilliant. Kajsa is a caterer and is an amazing chef (as well as a cherished friend and first "adopted" daughter). She came up with this recipe after I told her about a fabulous crab salad I'd had in the JFK Airport recently. She made the salad with a combination of rock crab (from Prince Edward Island where she and her husband, Patrick, have a cottage) and shrimp, all beautifully wrapped in a ribbon of cucumber, served on a bed of mesclun greens, with threads of carrot and a thin slice of lemon to garnish. Gorgeous! None of us wanted to eat these little masterpieces, but we finally did and they tasted as incredible as they looked!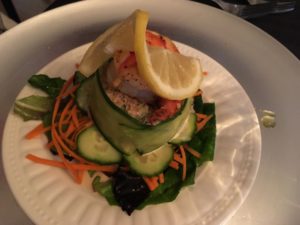 Susan prepared delicious chicken skewers for our protein and Monica, another brilliant chef and our hostess for the evening, provided a fabulous rice pilaf and some marinated, grilled vegetables to complete our dinner. Kajsa had saved and brought some very special wine for all of us to share and we ate and drank very well all evening!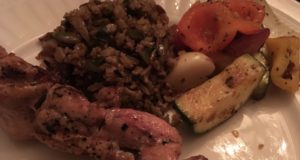 Cathy supplied a delectable dessert of frozen green seedless grapes with ice-cold dessert wine from the Okanagan Valley in British Columbia.
Dinner was phenomenal, but it was the laughter and connection shared among our group of six that made it incredibly memorable and thoroughly enjoyable!
Until next year, precious friends! xox