Every year, Ron and I head up to the BNP Paribas Open Tennis Tournament in Indian Wells, California (www.bnpparibasopen.com).  As always, we watched some fabulous tennis and had an opportunity to catch up with many special and long-time friends (Bonnie and Don, Pete and Tony, Judy, Peter, Bob and Roxy, Bob and Winnie and so many more).
We drive to and from the tournament every year, which is approximately 1300 miles each way.  We're on the road home as I write this and I'm remembering how much fun we had with my Mom on this same trip to Cabo last November.
My Mom has always loved every aspect of travel and makes every experience a great adventure.  It's such a delight to be on the road with someone who takes everything in and enjoys every aspect.  She has a child-like sense of wonder and curiosity – it's a true gift at any age and especially for someone now in her 80's.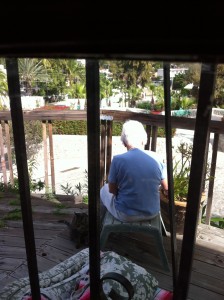 We planned our trip down in November, just as we've done on this trip, to get to Mulegé to spend Saturday night at the Hotel Serinidad, a fly-in hotel that has been a Baja classic for decades (www.hotelserenidad.com).  Every Saturday night features the Serinidad's famous pig roast, which lures people with small planes to fly in from the States or other parts of Mexico and for people like us who are driving, to plan our overnight stop for this weekly event.
The staff at the Serinidad know how to do a pig roast well, and it has become a real highlight on our many trips up and down the Peninsula.  Mom LOVED it, and she enjoyed every aspect of this legendary and iconic hotel.  There are some great memories and stories at this hotel, with pictures on the walls from famous guests of years gone by like John "Duke" Wayne, June Allyson and Dick Powell.  We'll stay overnight and get an early start to ensure that we arrive home in Cabo tomorrow night.
We wish Mom was with us again on this trip and we'll be thinking of her tonight.  Hopefully she'll be with us again for this amazing trip next November!