Although I haven't finished telling our story about the trip to Cabo, I wanted to write about a fabulous recipe that I tried today (after walking to the top of the Pedregal) from the New York Times.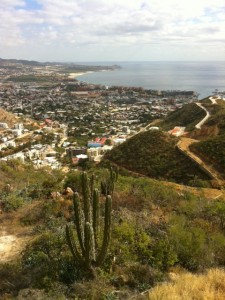 Here in Cabo, Ron and I have access to the freshest and most amazing ingredients – it really is a cook's delight. We have an organic market just half a block up the street from us that offers a gorgeous selection of fruits, vegetables, eggs, fish, chicken, goat milk dairy products, breads and take-out foods every Wednesday and Saturday. I noticed that one of the vendors, Juan Carlos, had some beautiful fresh sage the other day. I managed to track down some Italian sausage (it can be a bit of a challenge to find some ingredients down here, believe me!) and prepared this dish that we recently found in the New York Times archives:
http://www.nytimes.com/recipes/430/fettuccine-with-sausage-and-fried-sage-leaves.html
It was absolutely delicious! I served it with tender mixed lettuce and frisée, diced avocado, toasted pine nuts and a very simple vinaigrette of white wine vinegar with tarragon, olive oil, sea salt and fresh ground black pepper.
The wine I chose to serve with it was a 2009 McKinley Springs Cabernet Sauvignon from the Horse Heaven Hills of Prosser, Washington. The description on the bottle says:
Working with old vines and newer vines, this cab shows the earthy sage of the old vines and the smoky fruit of the new. Complemented by ripe raspberry, dark chocolate and a hint of spice.
Last year a lovely young couple, Davy and Diana, came into Pancho's and Ron and I enjoyed some wonderful conversation with them. They contacted us after their visit and said that they wanted us to try some of the wines that they are producing in their small town, Prosser, in Washington state. We were delighted, of course, to try some of the wines that they recommended, and they sent them to friends in Palm Springs so we could bring them back when we were up for the Indian Wells Tennis Tournament in March.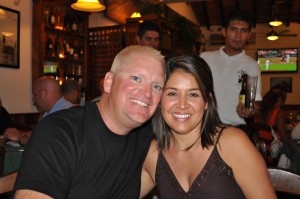 We never did have a chance to try a bottle before we left Cabo last season, so today was the day that we opened one of the four precious bottles that Davy and Diana sent to us. The wine was delicious and paired well with this dish. I selected the wine and worried that a cabernet might be too big for this cream based dish, but the Italian sausage and sage were delightful with this choice.
This is a dish that I would definitely serve to guests and look forward to enjoying again soon (thankfully there are leftovers from this lunch!). Buen provecho!