Neither Ron nor I are lovers of fast food, but we do make one exception when we're in California:  In–N-Out Burger (check out their full story at www.in-n-outburger.com).   Ron introduced me to this regional chain three years ago and we look forward to a visit on every trip back to California for one very good reason – they do fast food REALLY well.  Several renowned chefs are huge fans of the chain including Mario Batali, Antony Bourdain (who I ran into in Schmidt's Market in Southampton, New York last summer) and Gordon Ramsay.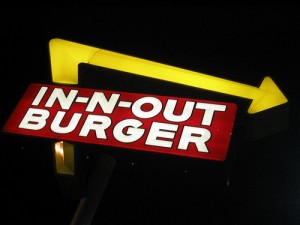 This chain was founded back in 1948 by Harry and Esther Snyder with a simple philosophy that lives on today:  "Give customers the freshest, highest quality foods you can buy and provide them with friendly service in a sparkling clean environment."   Their first location was in Baldwin Park, California and In-N-Out Burger can now be found in 281 locations in Arizona, California, Nevada, Texas and Utah.  No location is situated more than a day's drive from one of their regional distribution centers as they own and operate their own burger patty-making facilities in California and Texas.  The burgers are made from fresh, 100% pure beef that is free of additives, fillers or preservatives of any kind and the patties are never frozen or pre-packaged.  Every burger is cooked fresh to order, one at a time.
In-N-Out's commitment to quality doesn't stop at the burger patties.  They bake their own buns and cut their own fries in every location, use real ice cream in their shakes and every burger is dressed with the finest and freshest lettuce, tomatoes and onions.  They are an example of doing food right the old-fashioned way and NEVER compromising on quality.
Service is also a very important part of the In-N-Out Burger experience.  Their staff is clean-cut, polite and very efficient.  They are one of the few fast food chains to pay their employees significantly more than minimum wage and their staff reflects a very high standard.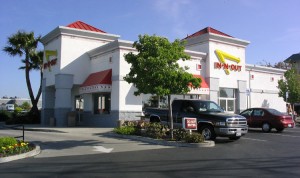 On our way out to New York last spring, Ron picked up a great black t-shirt with the In-N-Out logo on the front and a classic vintage design on the back.  It seems that everyone in the east (and throughout the USA) knows about this fast food chain and commented on the restaurant and the shirt itself.
In-N-Out have done something that few other chains have ever done – they've stayed true to their initial commitment and never compromised, despite their growth.  Still family and privately owned, we sincerely hope that they never waiver from the standard they have set and firmly maintained since the restaurant chain was founded in 1948.  Some things should never change.