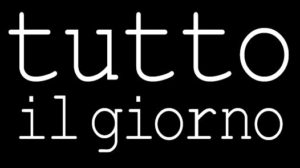 We bellied up to the bar at Tutto Il Giorno in Southampton just over a week ago to share small plates of appetizers and some wine with our dear friend, Sue. We sampled the Burrata (with sweet grape tomatoes and fresh basil), Britto (crispy calamari with zucchini and served with a basil dip), Arancini (local mushroom risotto cakes with a chive crème fraîche and truffle oil), Gamberi (grilled prawns, local asparagus, puttanesca sauce and toasted almonds) and Paccheri (slow cooked beef ragù served Neapolitan style). A beautiful bottle of Italian red wine to accompany and we had an amazing evening of great food and superb service (thanks Christopher and Mark!).
This past Friday night, we met up with Sue and another dear friend, Monte, again at the bar for a casual drink, bite and conversation. Sue and I shared the Branzino (fire-roasted whole fish served over an herb salad with a broiled cheese-crusted tomato), Ron enjoyed their featured pasta dish (delicious!), and Monte ordered their Cartoccio (local fish baked in parchment paper with mixed vegetables and seasoned with a roasted tomato vinaigrette).
This trendy Neopolitan-inspired restaurant opened in 2009 and reflects a chic dining atmosphere and experience. The Tutto legacy began in 2006 in Sag Harbor (now owned by chef Maurizio Marfoglia) when Gianpaolo de Felice and his close friend, David Mayer, imagined having the food of Southern Italy available in the Hamptons. That original restaurant was designed by Gabby Karan de Felice, married to de Felice, partner in the restaurants, and daughter of famous clothing designer, Donna Karan, and reflects the "urban zen" atmosphere (like her mother's lifestyle store next door). That same comfortable atmosphere was replicated in the Southampton location where you're always assured delicious cuisine made with local, fresh ingredients under the creative control of Corsican Executive Chef Alex Apparu. In 2014, the Tutto group opened a third location in Tribeca, which we're looking forward to trying one day.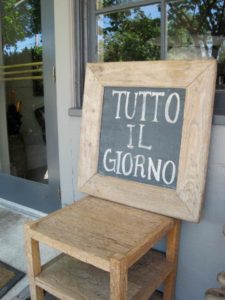 Whether you go to Tutto for lunch or dinner, you'll always enjoy the atmosphere, food that is consistently creative and delicious, an extensive wine list, and friendly and professional service. Before you're done your meal, you'll already be looking forward to your next visit. Buon appetito!