Our friend, Ian Harkins, is a brilliant actor, producer, director, and voiceover artist who trained at the Royal Academy of Dramatic Arts in London and Cornell University. He's been playing tennis with Ron since he was a very young lad, and until last night, we had never had a chance to see him perform.
As Managing Director, one of three Founding Partners of Purpled Pheasant Productions, and one of the three actors to perform a comically abridged form of 37 Shakespearian plays at the Southampton Cultural Centre, we thoroughly enjoyed Ian's performance, and that of his fellow actors, in this fun, fast-and-furious interpretation of The Complete Works of William Shakespeare (Abridged). This show first premiered at the Edinburgh Fringe Festival in 1987, became London's second-longest-running comedy after a ten-year run, and has become one of the most frequently produced plays which has been performed in dozens of languages around the world.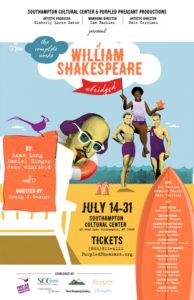 It was very cool for us to watch Ian on stage. He is best known for his television series' performances as Narrator of The Once and Future Nerd and as John Chamberlain in ABC's Forever. He's appeared in many plays throughout the US and Europe, including London's West End, as well as in American Hustle, Boardwalk Empire, the Murdoch Mysteries, and The Knick (upcoming). His career is just starting to take flight and we will watch and follow his future success with great excitement and anticipation. Break a leg, Ian!