We arrived in Savannah, GA in late afternoon and parked near the waterfront as that appeared to be where the action was. There's a lot of history in the south, most of it good and, unfortunately, some of it bad, but it's important to take in as much as we can to understand the past. It's hard to imagine the ships bringing slaves to the harbors of this beautiful city and the horrid treatment of people.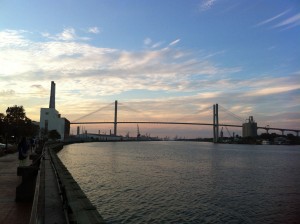 We watched the sun set over the harbor and took a stroll down the historic marina area. We were feeling like listening to some live jazz, and were referred (by a lovely young woman in a gorgeous B&B we'd love to stay at on our next visit – see www.oldeharbourinn.com) to a nearby restaurant called Jazz'd (jazzdtapasbar.com) that serves tapas – perfect! We shared some fabulous dishes: She Crab Stew (a Savannah favorite cream based stew with chunks of blue crab and vegetables), Sauteed Mushroom Ratatouille, Fish Tacos "A La Plancha" and Chorizo Sliders with a glass of California pinot noir. A two-piece blues band called Bottles and Cans (Ray Lundy and Mike Walker) were playing and we thoroughly enjoyed them, despite that we were hoping to hear some jazz that night. Both musicians play guitar, but Ray's voice is really unique; raspy and whisky-soaked.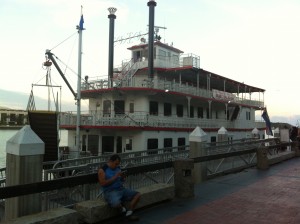 The couple sitting at the adjacent table from Charlotte, North Carolina, Hillier and Yvonne, bought us a glass of wine to welcome us to the south and, before the end of the evening, we were able to buy them a glass of port to thank them and put a smooth finish to our conversation and evening. Hillier and Yvonne have only been seeing one another a few months and I think they would be close to our ages. Hillier commented that he couldn't imagine travelling like we have and felt that, as a man of color, that it wouldn't be possible. We struggled to understand his viewpoint, but respect that he has a right to that belief. Only he has walked in his shoes and lived in his skin. We thoroughly enjoyed meeting them and sharing some fine music and conversation and were grateful to have met them.