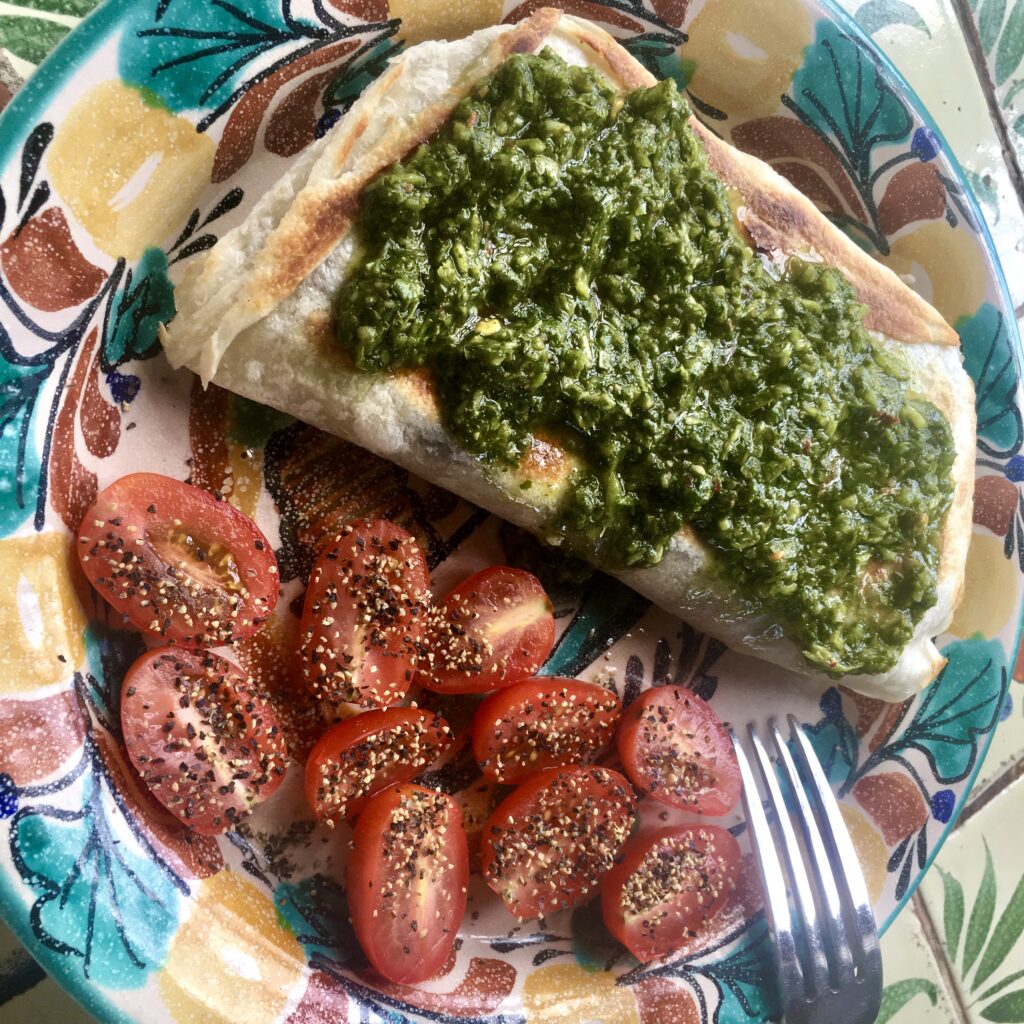 Ron and I were introduced to a delicious new sauce called zhoug (pronounced zoog) when we were visiting our friends, Bonnie and Don, in Long Beach, California early this year – just before COVID-19 changed the world.
Bonnie is the queen of making fabulous food – FAST! I treat cooking as an exercise in meditation and I putter and play while I create. Bonnie, on the other hand, has learned the art of getting meals prepared quickly so she can move on to do other things she'd rather spend time on. She picked the zhoug sauce up at Trader Joe's and Ron and I absolutely fell in love with it. We picked up extra to bring home to Mexico, but the supply didn't last very long. The answer, then, was to figure out how to make it myself!
Zhoug originated in Yemen but is now enjoyed in many other parts of the world (our friend, Henry, remembers having it while living in Israel). I'm a huge fan of chimichurri, but find that zhoug is brighter, spicier, greener and fresher. I use it on and in everything, literally, and it makes the BEST guacamole when mixed into mashed avocado. Using a food processor, this literally takes 10 minutes to make and clean up. Give it a whirl – literally!
Ingredients
3 cloves garlic
2 Serrano chiles, seeds and membranes removed and cut in big chunks
1 large bunch cilantro, washed and dried
1 tsp. ground cumin
1/2 tsp. ground cardamom
1/2 tsp. kosher salt
1/2 tsp. dried crushed chile flakes
1/3 cup extra-virgin olive oil
2 tbsp. fresh lemon juice
Instructions
Place all ingredients (except olive oil and lemon juice) into the bowl of a food processor and pulse until chopped fine. Add olive oil and lemon juice and blend into a coarse paste.
Store in a sealed, glass jar in your refrigerator for up to a week (if it lasts that long!).