We drove through western Louisiana to see our friends, Stretch and Mary, in Lufkin, Texas. Neither of us had been in eastern Texas before and we were pleasantly surprised to see how heavily treed and beautiful this area is.
Stretch and Mary acquired land and a trailer park that they have worked relentlessly on over the past eight years and have created a high-end and high-quality home for themselves and for all the other people who live there.
Ron and Stretch have been dear friends for some thirty-odd years and have a ton of shared history and memories together. Ron adores Stretch and Mary and they mirror the same feelings of love and respect for him. As the newcomer to the foursome, they couldn't be more gracious or make me any more welcome. I love hearing the stories of their past and of the memories they share.
We enjoyed great conversation, lots of laughs and talked until the wee hours of the morning. The Walmart in Lufkin will never be the same (who knew it was a tourist destination or that we might be considered "WalMartians"?), and our trip there resulted in the discovery of Blue Bell Pumpkin Spice Ice Cream and several other fabulous flavors! We had such a splendid visit with Stretch and Mary and didn't want it to end, but we needed to get back on the road.
While we were there, Stretch had made an appointment for us to get the brakes fixed on the BMW and, after two nights and our car repaired and ready, it was time to go. We set off and got about thirty miles from Lufkin when a terrible sound started on the right rear wheel. Stretch came to the rescue, took a look and he and Ron determined we needed to get the car back to the mechanic to properly remedy. Our second trip to Lufkin in three days was on the back of an AAA tow truck. The return was not planned, of course, but allowed us ensure the car was safe to drive, to spend one more night with our dear friends, and to partake of Mary's famous and delicious Manhattan style clam chowder.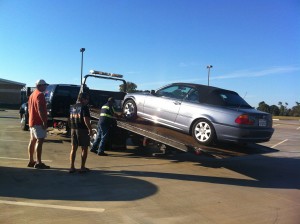 It really was time to leave the next morning, and with a cup of Stretch's great coffee to prime us, we set off once again. We had a wonderful time and look forward to making Stretch and Mary as welcome at our home in Cabo in a few months' time.