Our next stop was to stop to visit Ron's amazing mother who lives in northern California. At ninety-three years of age (and very soon to be ninety-four at the time of this writing), she is an absolute inspiration! She still lives in the family home of over sixty years, drives extremely well (by anyone's standards!) and takes great care of herself, her younger siblings and her friend and neighbor, also a Mary, who lives across the street.
Although her back is giving Mary some pain and trouble now and she uses a cane for stability if walking far, she is in amazingly good health. She attributes it to fueling her body all these years with great food, of which I'll talk more about shortly. Her mind is razor sharp and she has a better memory than both Ron and I combined. Her skin is beautiful and she looks twenty years younger than her actual age.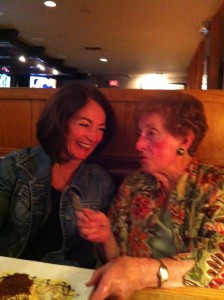 Mary drives a great distance to do her shopping at many different stores as she knows which markets carry the best lamb stew meat (which is a different butcher than the one who carries the best leg of lamb, by the way!) and which carry the best organic product (this is all that she buys and uses and is, assuredly, what has kept her and the people she loves in such good health). Her preparation of the food she buys and cooks is representative of the care she takes in all things – "anything worth doing is worth doing right".
Mary is Portuguesa with both her parents emigrating to the Silicon Valley area (when it was all still farming, orchards and dairy operations) before their children were born from the Azores, a group of nine volcanic islands situated in the North Atlantic Ocean and is located about 1,360 km west of Portugal, 1,510 km northwest of Morocco, and about 1,925 km southeast of Newfoundland. Ron and I visited the Azores and the west coast of Portugal two years ago and were very taken with the beauty, tradition and majesty of this part of the world.
Mary is a FABULOUS cook: the food she selects and prepares is her way of expressing love and you can taste the care she takes in every bite. Her food is simple, with very little spice, but her use of the very best ingredients and her preparation makes each meal memorable. Some of the dishes that we have savored and enjoyed in her home are French toast (made with Trader Joe's cracked wheat sour dough bread and cooked in olive oil – delicious!), rack of lamb, lamb stew, what Mary calls "boiled dinner" (corned beef with boiled onions, potatoes, carrots and cabbage), kale soup, chicken soup, vegetable soup, Portuguese omelet (made with onions, potatoes and parsley) and so many more! I'm starting to take notes and write down her recipes because one day she won't be here any longer and it would be a tragedy to lose her recipes and reminders of such a great lady. Here's Mary's recipe for her famous and delicious roast beef:
Start with a center chuck roast and ensure that there is lots of fat on it for tenderness. Cut slits into the meat and insert chunks of halved garlic cloves. Heat olive oil in an electric fry pan and sear all surfaces of the meat.
Remove roast from pan and deglaze with burgundy wine. Add 6 whole allspice cloves, two smashed cloves of garlic and two bay leaves, add roast and cover with sliced onion (use two onions and let some of the onion cook in the gravy). Cook at a low, steady simmer (~275 to 300F) for 1 ½ hours. Turn the roast, add more burgundy as required and continue cooking. Keep covered to keep all of the moisture in the pan and to add additional moisture to the gravy.
Remove roast, bay leaves, smashed garlic and allspice cloves. Add a tsp. or two of ketchup (only add more to taste) to cut the acid and thicken with arrowroot (buy at a health food store).
Serve with mashed potatoes, green peas or French style green beans and boiled carrots. Simple, but absolutely delicious!
Mary is very particular about how things are done and there is an absolute right way (hers!) and many wrong ways to do things. I had to laugh when I went to cut potatoes when Mary was once on the phone, only to realize that I had done it incorrectly (by Mary's standard!). It's that strength that has kept her so healthy and strong all these years – I can only hope to be enjoying life as she is in forty more years myself!
We stop to see Mary to and from New York and try to spend as much precious time with her as possible. Ron is her first-born child of six and she so loves to spoil him and he so loves to be spoiled by her. I'm just grateful to spend as much time with her as possible. We love her very much.