We headed to downtown Walla Walla mid-day, parked the car and started to wander and explore more of the town. As we had read that K Vintners of the Walla Walla Valley had produced, according to Wine Spectator, the #31 wine in 2015, their 2012 wine called "The Creator", we were curious and wanted to do a tasting at Charles Smith Wines/K Vintners. Ron and I shared a tasting of six red wines, starting from lighter to more complex. A couple of the wines were fine, but none of the six impressed either of us enough to make a purchase.
After our tasting, we went looking for a hot bowl of soup on a very cold afternoon.  Our new friend, Terry, recommended the Walla Walla Bread Company right across the street from him at the Fort Walla Walla Cellars Tasting Room. We sat up at the bar to warm up as it was directly in front of their very impressive wood-fired oven. We ordered one of each of their soups of the day: Smoked Turkey Lentil and Broccoli Cheddar. Both soups were delicious but the Smoked Turkey Lentil soup was the winner – full of flavor and goodness.
We ordered a glass of Balboa Cabernet Sauvignon as well as the Amavi Cabernet Sauvignon which our server, Ashlee, highly recommended. We then shared a Pork Torta (pork shoulder, purple pickled cabbage, salsa verde, feta and avocado, served in a delicious torta) that was served with two sides: JoJo's (wood-fire oven roasted potatoes with garlic, paprika and thyme) and Panzanella (Italian bread salad).
Our meal was excellent as was the wine and Ashlee's service. One of the other servers was just finished work and generously offered her recommendations on our choices as well. We especially enjoyed watching Raymond prepare the food to be cooked in the wood-fired oven and then plating the lunch dishes as they were ready to be served. The breads in this restaurant/bakery looked AMAZING and we will definitely be back when we're next in the area.
It was Halloween and it is a BIG event in Walla Walla. Main Street is closed off to all vehicular traffic for almost 3 hours and the store owners and businesses pass out candy to a never-ending parade of trick-or-treaters, both young and old.
We had learned about this special Halloween tradition from our new friends, Terry, Pat and Shelley at the Fort Walla Walla Cellars Tasting Room the day before, and they invited us by to check it out.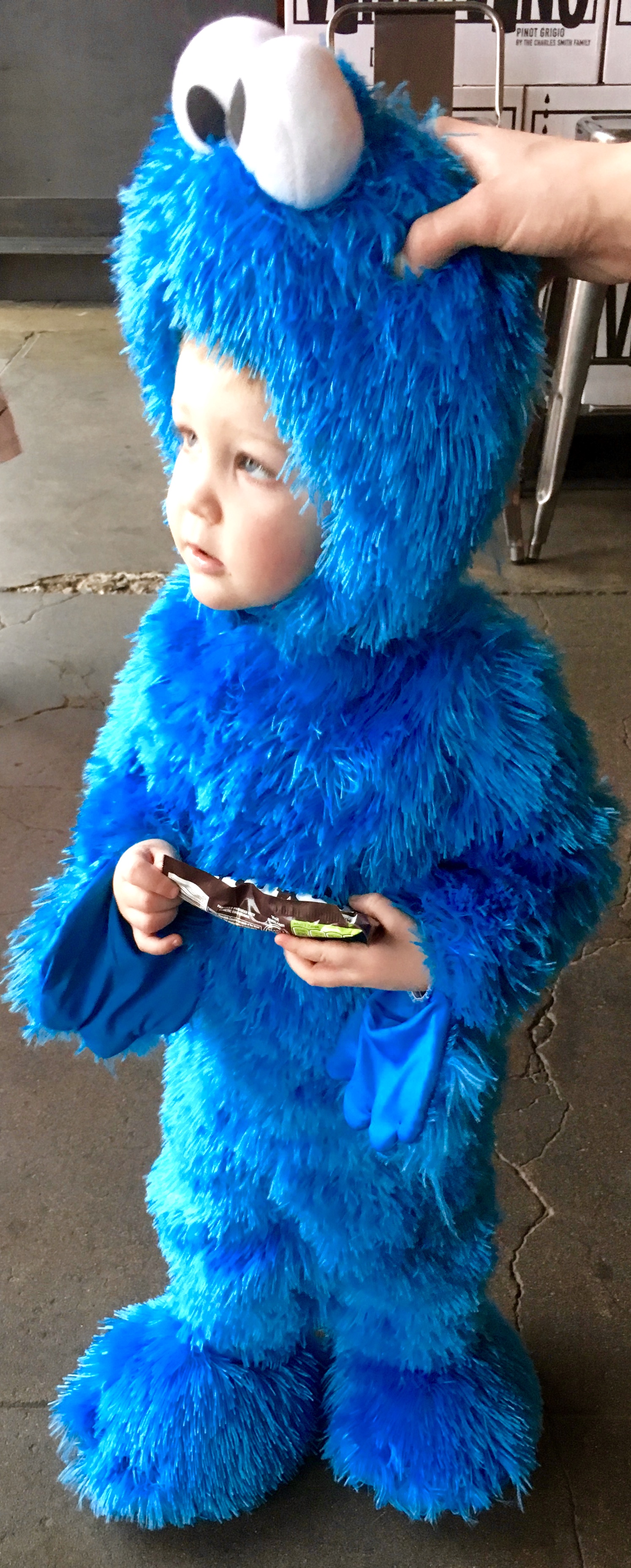 What a great idea to keep the kids off the streets and safe and a wonderful opportunity for the store and business owners to do something really nice for the children and the community.
Fort Walla Walla Cellars went through thousands of pieces of candy. Pat's arm was getting tired, so I jumped in to help him for a short while until Shelley and her granddaughter arrived to take over. It was such a lot of fun!
Terry and Pat then generously invited Ron and I to join them for the Industry Night at the historic Marcus Whitman Hotel. Monday nights are Industry Nights at this beautiful hotel and it is a tradition for people in the wine industry to bring a bottle or two to taste and share with others. Terry brought three fabulous bottles for us to taste (from Fort Walla Walla Cellars and Watermill Winery) and, what was left over, he left for the staff to taste and enjoy.
The four of us shared Chorizo Stuffed Mushrooms and Calamari with our wine tasting – both appetizers were delicious but the wine was absolutely amazing. We felt so honored to be included in the evening and to sample these beautiful wines. We all ordered a Burger and the four of us finished by sharing an Apple Cobbler.
Our last night in Walla Walla was so special and we look forward to coming back to this area one day. The wines and food in the area are truly fabulous, but we are most grateful for the new friendships we've formed and the memories we've made on this trip. We've learned in our travels that it's not so much about where you go and what you do, but rather the people you meet on the journey.