There is a roadhouse family restaurant in Sag Harbor, New York, that we try to get to every Thursday night. Bay Burger makes really good burgers and their lobster rolls are delicious. We love their fresh veggie sides and their Joe & Liza's homemade ice cream is wonderful (free ice cream on Wednesdays with your lunch or dinner – you can't beat that!).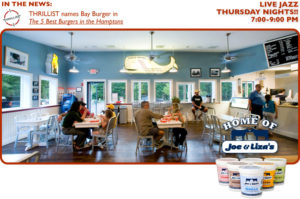 Although it's jam-packed (no pun intended!) and chaotic on Thursday nights, we absolutely LOVE coming out to listen to the live jazz which is led by Claes Brandal and features the Thursday Night Live Band every week. If you miss coming out, you can always listen in to the Jam Session Radio Hour every Wednesday night at 7:00 EST on WPPB 88.3 F.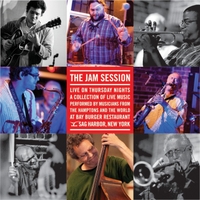 You never know who you will see there jamming and we have heard some truly world class entertainment (a week ago Thursday we saw world-renowned trumpet and flugelhorn player, Randy Brecker, and his beautiful wife, Ada Rovatti, a brilliantly talented saxophonist, jamming with the locals. There was a line-up of performers out the door that night, but the highlight was a young man of fifteen who stepped up to play sax with this cast of seasoned talent. I'm sure it was a night he'll always remember, as we will, and he'll be someone to watch in the years to come.